Dear Friends,
If you're feeling like you didn't get the break you were hoping for over the summer, you're not alone. There's been a lot to contend with, on many fronts.
As we go forward into the fall, we'd like to invite you to participate in several virtual events that we're excited to share with you. They might even cheer you up (or cheer you on).
What if the wind doesn't blow!?
No doubt, this is a question you've either asked—or been asked—whenever the subject of transitioning to clean renewable energy comes up. The question poses a real challenge if you don't know the answer, especially when you're up against big power utilities and the fossil fuel industry.
Join us and our co-hosts for an illuminating conversation with Stanford University professor Mark Jacobson, co-author of numerous reports on how to get to 100 percent clean and renewable energy using wind, water, and sunlight. As Jacobson explains, this is not some idealistic or futuristic undertaking—we have the technology already.

When: September 28, 7pm ET / 4pm PT / 8pm AT
Webinar Series: 100% Clean Renewables? Absolutely!
In this three-part webinar series, Maggie Bunbury will discuss Atlantic Canada's electricity landscape and what each province is doing—or not doing—to transition away from fossil fuels. Spoiler alert: the province's energy roadmaps, led by the big power utilities, are full of costly, winding roads and dead ends.
But there is hope.
There is a lot that Atlantic Canada can do to not only reach "net-zero" but "absolute zero" long before 2050. Absolute zero is a term we at Sierra Club Canada are using to categorize an electricity grid that is powered by 100% renewable, non-emitting sources of electricity. That means provinces don't get to drill oil and then plant trees in order to call it "net-zero."
Nova Scotia: Wednesday, September 21, 2022, 1:00 pm ADT
Newfoundland and Labrador: Tuesday, September 27, 2022, 1:00 pm ADT
New Brunswick & Prince Edward Island: Thursday, September 29, 2022, 1:00 pm ADT
There's lots more to come. Stay tuned for our energy democracy webinar in October!
—The Beyond Coal Atlantic team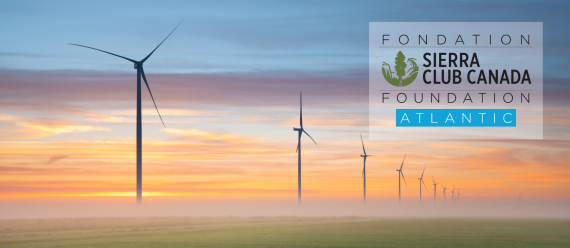 Chers Amis,
Si vous avez l'impression de ne pas avoir eu le répit espéré pendant l'été, vous n'êtes pas seul. Il y a eu beaucoup d'enjeux à affronter sur de nombreux fronts.
Alors que l'automne approche, c'est avec grand plaisir que nous aimerions vous inviter à participer à plusieurs événements virtuels. Ces événements pourraient vous remonter le moral, ou, du moins, vous encourager à aller de l'avant!
Et si le vent ne souffle pas?!
C'est sans doute une question que vous vous posez – ou qui vous est posée – chaque fois que l'on aborde le sujet de la transition vers les énergies renouvelables. Répondre à cette question constitue un véritable défi quand on ne connaît pas la réponse, et surtout lorsqu'on s'oppose aux grandes compagnies publiques d'électricité et à l'industrie des combustibles fossiles.
Joignez-vous à nous et nos co-animateurs pour un échange éclairant avec Mark Jacobson, professeur à l'Université de Stanford, et co-auteur de nombreux rapports sur la façon d'accéder à une énergie 100 % propre et renouvelable en utilisant le vent, l'eau et le soleil. Comme l'explique Jacobson, ce n'est pas une démarche idéaliste ou futuriste – la technologie existe déjà.

Quand: 28 septembre, 19 h HNE / 16 h HNP / 20 h HNA
100 % d'énergies renouvelables propres? Absolument!
Série de trois webinaires
Dans cette série de trois webinaires, Maggie Bunbury brossera un portrait de l'énergie électrique au Canada atlantique et présentera ce que chaque province fait, ou ne fait pas, pour réduire sa dépendance aux combustibles fossiles. Avertissement : les feuilles de route énergétiques des provinces, élaborées par les grandes entreprises d'électricité publiques, comprennent de nombreux chemins sinueux, coûteux et sans issue.
Mais il y a de l'espoir.
Les provinces atlantiques peuvent agir dès maintenant pour atteindre non seulement le « zéro net », mais aussi le « zéro absolu » bien avant 2050. Le zéro absolu est un terme que nous employons au Sierra Club Canada pour désigner un réseau électrique alimenté par des sources d'électricité 100 % renouvelables et non émettrices. Cela signifie que les provinces ne peuvent pas forer des puits de pétrole, planter des arbres par la suite, et parler d'un impact « net-zéro ».
Nouvelle-Écosse: mercredi 21 septembre 2022, 13 h HNA
Terre Neuve et Labrador: mardi 27 septembre 2022, 13 h HNA
Nouveau-Brunswick et Île-du-Prince-Édouard: jeudi 29 septembre 2022, 13 h HNA
Nouvelle-Écosse: mercredi 21 septembre 2022, 13 h HNA
Terre Neuve et Labrador: mardi 27 septembre 2022, 13 h HNA
Nouveau-Brunswick et Île-du-Prince-Édouard: jeudi 29 septembre 2022, 13 h HNA
Ce n'est pas tout! Restez à l'affût pour ne pas manquer notre webinaire sur la démocratie énergétique offert en octobre.
—L'équipe Beyond Coal Atlantic

Atlantic@sierraclub.ca