In a recent letter to the Nova Scotia government, Nova Scotia Power Inc.'s CEO Peter Gregg implored government ministers to meet with the company to work out their differences, while suggesting NSPI was an aggrieved party that had been dealt an unfair blow by the province's meddling. However, NSPI's own 10-Year Systems Outlook contradicts the corporation's clever but hollow assertion.
In the report, which NSPI filed with the NS Utility and Review Board on June 30, 2022, the utility monopoly outlines plans to bring an additional 850 Megawatts of so-called "natural gas" onto the power grid. The carbon footprint of adding this much new fossil gas (mostly fracked) to the grid threatens to cancel out any gains made by the province's recent 350 MW wind energy procurement.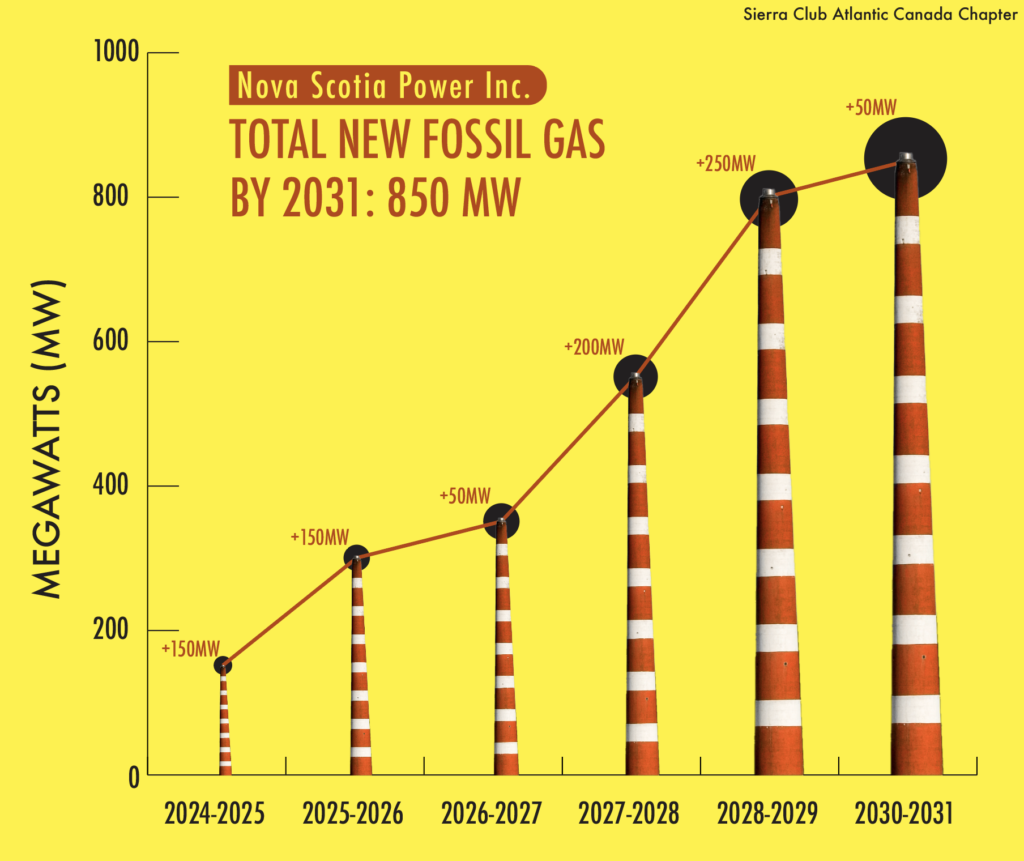 "Nova Scotia Power is crying crocodile tears," says Tynette Deveaux, who leads Sierra Club Canada's Beyond Coal campaign in the Atlantic provinces. "They're claiming they've been working hard for the past 20 years to make Nova Scotia's energy system greener. If that's true, they're not very good at their job."
Although the province's Electricity Act requires Nova Scotia Power to supply 40 percent renewable electricity in 2020–2022, the utility will almost certainly fail to meet the target—again. It failed to meet the original 2020 deadline, blaming Covid-19 for delaying the completion of the Muskrat Falls hydro project.
"The Muskrat Falls megadam should never have been built," says Gretchen Fitzgerald, National Programs Director for Sierra Club Canada. "Nova Scotia Power and its parent company, Emera, saw an opportunity to make money building the Maritime Link. We're now paying down that $1.7 billion investment in our electricity rates, plus a 9 percent guaranteed rate of return!"
Nova Scotia Power and Emera need to stop pointing the finger and take responsibility for years of delaying the transition to clean renewable energy.
"If we want to bring down the cost of electricity and protect Nova Scotians who are struggling to heat their homes," says Deveaux, "we need to get going on wind and solar energy and battery storage. These technologies will save us a lot of money and provide the energy security that imported fossil fuels cannot."
See 2022 10-Year System Outlook, p 19–20
Natural gas is no more "natural" than coal or oil. See Natural Gas: Friend or Foe? – Beyond Climate Promises
Media Contacts:
Tynette Deveaux
Beyond Coal Atlantic Campaign Coordinator
Sierra Club Canada
tynetted@sierraclub.ca
Gretchen Fitzgerald
National Programs Director
Sierra Club Canada
gretchenf@sierraclub.ca