Dear Friends,
I know it's been a tough few days, and for many of you here in Atlantic Canada, it will take weeks—perhaps months—to recover from Fiona. So far, we know that the storm killed three people, including a woman in Port aux Basques who was swept to sea while preparing to evacuate her home. Beyond the physical damage from the storm, there's an emotional and psychological toll as well. The stress and anxiety of waiting for "an historic storm" to hit is no small thing, even for those who don't live in the region but have family and friends who do. Of course, for those whose homes were lost or damaged, the toll is much greater.
Now that the storm has passed, we have some important choices to make. We can buy into the narrative that our utility companies are our saviours, coming to our rescue, or we can call them out for putting profits before people—and demand they be held accountable.
When I talk about utility companies, I am referring to the executives who make the decisions about our electricity grid—not the fine folks who work under them and heroically clean up after each storm.
Why get angry at the utility power brokers? Here's why:
Nova Scotia
Nova Scotia Power Inc. (a subsidiary of Emera Inc) just finished making its case before the Nova Scotia Utility and Review Board (UARB), requesting a huge rate hike, and more. The for-profit utility monopoly wants to charge customers an additional 11.6 percent per kw/h, increase its guaranteed rate of return to 9.5 percent, and impose a Storm Rider to pass along more costs associated with storm cleanup to customers. NSPI has proposed a new Deferred Decarbonization Account, which sounds nice in theory but is mostly intended to compensate NSPI for any profit loss incurred by the early retirement of its coal-fired generating stations. The company also charges customers above-market interest rates on any deferred or under-recovered fuel costs—a kind of Payday Loan that few customers are even aware they've entered into.
Sierra Club Canada's Beyond Coal Atlantic team pulled together a presentation on all of this for the UARB, which you can read here: How much more profit do you need, Nova Scotia Power?? You can watch a recording of the presentation, delivered by Tynette Deveaux, here.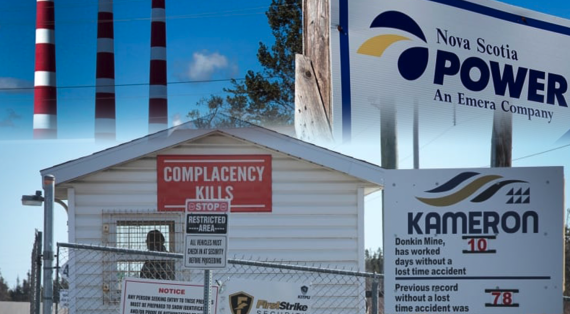 In case you're thinking, Yes, but surely the company is doing everything it can to transition to clean renewable energy—sorry to disturb your reverie. NSPI is currently in talks with Kameron Coal about buying coal that is being mined at the newly reopened Donkin mine in Cape Breton. NSPI also has plans to build a new natural gas (aka fossil gas) plant and, like other utility corporations in the region, it's counting on the Atlantic Loop to solve the clean energy problem. The Loop, if approved by all four levels of government (federal, provincial, municipal, and First Nations) in all four Atlantic provinces, plus Quebec, will cost billions of dollars and have little to no impact this decade, while it's being constructed. In the near term, however, it does manage to once again kick the clean-energy transition down the road.
For more on Nova Scotia Power and Nova Scotia's energy plans—and opportunities—watch this presentation by Maggie Bunbury, Clean Energy Researcher for Sierra Club's Beyond Coal Atlantic campaign.
Newfoundland and Labrador
If you search for "boondoggle" on the internet, you'll find that Wikipedia's page for the term includes the Muskrat Falls mega-dam in Labrador (part of the Lower Churchill Project) as an example. Sadly, this particular boondoggle is still unfolding, and the hydro power that was promised is still not being delivered.
The Muskrat Falls project, under the direction of the Crown corporation Nalcor Energy, has resulted in ecological devastation, increased health risks and social disruption to Indigenous communities, and a massive debt for the province (i.e., taxpayers). In 2020, a NL Commission of Inquiry into Muskrat Falls' endless delays and billions in cost overruns by the Crown corp Nalcor released its damning report: Muskrat Falls—A Misguided Project.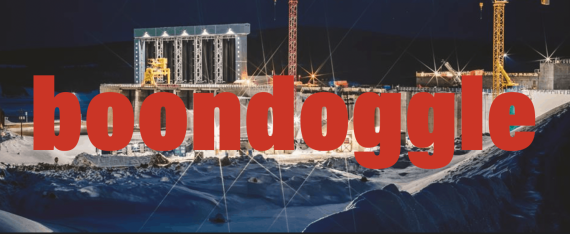 Then there's Bay du Nord. In April, Canada's Environment Minister Stephen Guilbeault approved the Bay du Nord project, allowing new deep-water offshore oil drilling 500 km off the coast of Newfoundland. Crude oil production estimates for the project, which is being led by the Norwegian company Equinor, range from 300 million to 1 billion barrels.
Yes, but what about the recent announcement that Port au Port Peninsula will soon be home to 164 wind turbines? This wind energy will be used to create green hydrogen, which will then be transformed into ammonia and transported across the Atlantic to Germany. The 200-metres high turbines are phase one of World Energy GH2's three-phase plan to monetize wind in the area. World Energy GH2 is a consortium of companies and a subsidiary of World Energy LLC.
Port au Port is a small peninsula, so local residents are understandably concerned that they've been given no details about the project—only vague assurances about a required Environmental Assessment (EA). For anyone who has submitted comments or evidence for an EA in recent decades, you know that doesn't bode well for the environment or local community, since we find ourselves in an era of regulatory capture by big industries and corporations.
"Regulatory capture refers to the phenomenon of government agencies, created initially to serve the public interest, serving instead the interests of the companies and industries they regulate, as a result of deliberate efforts on the part of those companies and regulators to co-opt the agencies." —Concise Encyclopedia of Business Ethics
Bottom line: the Port au Port wind and hydrogen project will surely make some rich companies richer, and provide some much-needed jobs, but as currently proposed it will do nothing to reduce the region's energy troubles.
Tune into our webinar today at 1:00 pm AT / 1:30 in NL for more on Newfoundland and Labrador's energy landscape and what needs to change. Register for the Zoom link here.
More to come
We'll have more to share in the coming days and weeks, including our spotlight on New Brunswick and Prince Edward Island (that webinar is on Thursday, Sept 29). Register here.
In the meantime, let us offer you a ray of hope after what has been a gruelling few days: On Wednesday, we'll be hosting a webinar with Stanford professor Mark Jacobson, who will discuss how 100 percent wind, water, and solar energy is possible today.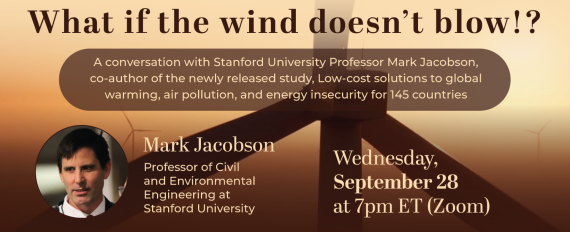 —The Beyond Coal Atlantic Team
Kjiputkuk/Halifax
The Beyond Coal Atlantic campaign relies on donations from the public to support our work. Please consider making a donation today.
The Atlantic Chapter of Sierra Club Canada is located in the territory of the Mi'kmaq, Passamaquoddy, Wolastoqiyik, Beothuk, Innu, and Inuit. We stand in solidarity. Find out more at Let's Talk About Land Acknowledgments – Beyond Climate Promises