Highlights
• Good news everywhere you look!
• Communities are making it happen
• No more payday loans, Nova Scotia Power!
• Countering disinformation about fossil fuels and renewables
• Our immediate fundraising goal is $7,700
• Why are we mining coal again in Cape Breton?
• The climate crisis is also a democracy crisis
• Introducing energy democracy
It was heartening to open my inbox this week and find an email with the subject line, "A bakery that doubles as a power plant." The Bloomberg Green Daily story featured a village bakery in Puerto Rico that has 51 solar panels on its roof. It's part of a local cooperative-run microgrid that's able to keep the power on when electricity supplied by the island's utility company goes down, which happens regularly.
During one recent power outage, "a man ran an extension cord from his solar-powered restaurant to his neighbor's oxygen machine. The owner of the ice cream parlor keeps a power strip on his porch so locals can charge their phones."
Around the world, communities are advancing real solutions to meet their energy needs affordably, reliably, and with care for each other and the environment. These stories rarely make the headlines, but they should.

Over the past year, Sierra Club's Lindsay Lee and Oshean Juneja have been curating good news stories and posting them in a Friday roundup on our social media. If you haven't been following us, I invite you to check out our pages: Facebook, Twitter, Instagram, and TikTok. You can also find some of our favourites on the Yes we can! page of our Beyond Climate Promises website.
For me, these stories serve as an important reminder that despite the challenges and disappointments that go with dealing with governments, mining companies, and utility monopolies, regular people are doing great work behind the scenes—and they're making a real difference.
As the year draws to a close, we'd like to share a few highlights of the work we've done as part of our Beyond Coal Atlantic campaign. Please check it out below.
Our funding for the two-year campaign is also drawing to a close. While we hope to continue our work in the new year, much will depend on raising new funds to keep going. Our immediate fundraising goal to cover January expenses is $7,700.
If you're able to donate to the campaign, please click on the link below (you can indicate that you'd like your donation to go to the Beyond Coal Atlantic campaign in the Comments box), or reach out to us by email: Atlantic@sierraclub.ca.
We wish you a restful and restorative holiday season,
Tynette and the Beyond Coal Atlantic team
A Look Back at 2022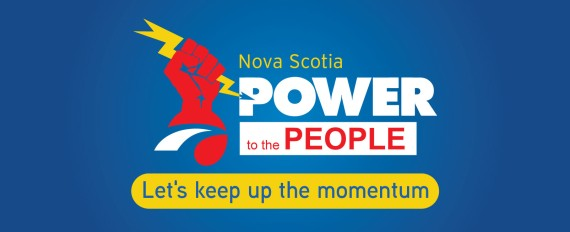 We took on Nova Scotia Power Inc. and its parent company, Emera Inc.
Our call to action – Tell Nova Scotia Power to stand down and listen up! – generated more than a thousand emails to the CEOs of NSPI and Emera, denouncing their plan to kneecap the solar industry in Nova Scotia.
We presented to the NS Utility and Review Board, calling out NSPI's payday loan scheme for millions in deferred fuel costs, which has been costing customers dearly without their knowledge. The NS government has since passed legislation that prevents NSPI from charging above-market interest rates on deferred fuel costs.
We demystified renewable energy and countered disinformation about fossil fuels
We countered the fear-mongering claims that it's not possible to transition rapidly to clean renewable electricity. Check out our webinar What if the wind doesn't blow? with Stanford University professor Mark Jacobson, a global leader in pathways to 100 percent clean renewable energy.
We put the Atlantic Provinces' power utility monopolies and their decarbonization plans under a microscope in our three-part webinar series.
We produced Explainers that give you the facts about fossil fuels, biomass, and small modular nuclear reactors:
•Natural Gas: Friend or Foe?
•Biomass Is Not Carbon Neutral
•Why are we talking about coal?
•Nuclear / SMNRs
We spoke out—again and again—about the Donkin coal mine in Cape Breton
Working with local residents, journalists, a methane emissions expert and a local geologist, we've been at the forefront of the fight to permanently shut down the coal mine—earning us the distinction of being labelled "one of coal's most vocal critics" by the Chronicle Herald.
Check out The National Observer's three-part series on the Donkin mine by Cloe Logan, and articles the Beyond Coal Atlantic team have produced, including a Donkin Mine Factsheet.
We've championed energy democracy
The climate crisis is inextricably linked to a crisis in democracy. The global energy democracy movement champions local democratic ways of organizing and advancing universal access to clean, affordable, and renewable electricity. It's centered around social justice, community ownership, unionized green jobs, and caring for the environment.
Energy democracy is flourishing in communities throughout Europe and in parts of the U.S. We're helping to seed energy democracy in the Atlantic region. Here are some of the resources we've developed:
•What is energy democracy?
•How do we take back our power?
•Meet Summerside Electric (PEI)
We've supported our allies
We're grateful to all the people who are doing what they can to call out injustices, take a stand against environmental destruction, and put forth constructive solutions. We speak up and show up to support our Indigenous and non-Indigenous allies as much as our capacity allows. We are awed by your commitment and tireless efforts.
We've cut through the BS
It can be overwhelming to get your head around all the legislation and policies that impact our communities. We can't claim to have covered it all on our watch, but we do promise you this: We're writing, presenting, and decoding for you. You deserve to have access to clear, concise, no bullshit information about the decisions that are shaping your life, and the lives of future generations.
Whether through our social media posts (our Facebook engagement is up 1,400% over last year!), speaking to reporters, or our submissions, reports, and presentations to governments, you'll find clear, well-researched facts that give you the tools you need to form educated opinions and find effective ways to act.
The Atlantic Chapter of Sierra Club Canada is located in the territory of the Mi'kmaq, Passamaquoddy, Wolastoqiyik, Beothuk, Innu, and Inuit. We stand in solidarity. Find out more at Let's Talk About Land Acknowledgments – Beyond Climate Promises